Program Benefits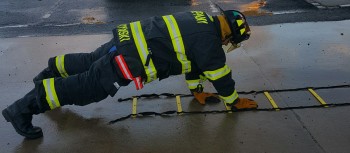 Increase Strength
Improve Endurance
Improve Stability
Prevent Injuries
Improve Speed
Improve Mobility
Improve Air Consumption
Become Healthier
After a couple sessions, the workouts will be done in PPE and sometimes SCBA to better relate the workouts to the job scene. Not only can these workouts improve performance, they can improve one's overall health and physique.
Workouts are done conveniently at YOUR firehouse. I travel to YOU.
This program will take place at whatever time your team and I agree on. Each session will be 1 hour and 15 minutes long starting with warm ups and ending with cool downs and stretching. Some of your equipment will be used for the exercises.